miles


Tecate
El Rosario
San Ignacio
Loreto
Los Barriles

kilometers


Tecate
240
555
724
1008
El Rosario
386
315
484
768
San Ignacio
893
507
169
453
Loreto
1165
779
272
284
Los Barriles
1622
1236
729
457
Where is Los Barriles and How Do I Get There?
Los Barriles is located halfway between La Paz and Cabo San Lucas in southernmost Baja California on the Sea of Cortez. GPS coordinates are: 23 degrees 67 minutes N, 109 degrees 69 minutes W. This area along the Sea of Cortez has long been a favored hideaway for anglers and adventurers. Windsurfers and kite boarders also claim it has the best wind in all of Mexico! The region around Los Barriles, also known as the East Cape, consists of a string of small settlements and villages, beautiful white sand beaches, rich fishing grounds and top-notch diving. Non-beach activities include hiking, biking, golf and horseback riding. There is a rustic "out-back" feeling to Los Barriles, and for the very adventurous, a dirt road takes you along the coast, past postcard-perfect beaches to La Ribera, Punta Colorado and Cabo Pulmo – the latter being a superb dive site within a national reserve. For dining, you will find everything from taco stands and family-style restaurants to fine dining with grilled seafood and lobster.
by plane
There is jet service from many major US airports to San Jose del Cabo (SJD), about a 45 minute drive from Los Barriles. You can find information about the SJD airport here and here. After deboarding the plane you will pass through immigration. You will need your passport and the blue and white immigration form that was given you on the airplane. They will stamp your blue and white form and give you one of the copies. Keep this form with your passport. You will need it to get out of the country.
After retrieving your luggage, you will go through Mexican customs. It's a little like playing the lottery. You push a button. A red or green light will illuminate. If it's green you just walk through. If red, they look through your luggage.
After customs you will pass by many time-share sales people from Cabo San Lucas on your way to pick up your luggage. If you do not want to waste your time right then with time-share, just pass by saying, "No Gracias".
After customs, you will need to pick up your rental car for the drive to Los Barriles. You can save money by booking your car rental in the US before your trip. Many credit card companies will provide collision/damage insurance on the rental car if you use their credit card to rent the car. However, you WILL need to get liability insurance on the rental car as the credit card company does not cover liability. Your US car insurance will not transfer to a Mexican car rental.
Ecobajatours (part of the ABC bus company) operates a shuttle van from the LB bus station to SJD Airport - Terminal 1 and to La Paz. They go 3 times daily. Tickets can be purchased at the LB bus station. One way trip to SJD Airport is $210 pesos. The van is an 8 seater, brand new, and does not stop along the way. For more information see their website. (ecobajatours), Los Cabos 52(624)144-3066 or Mex 01-800-026-8331
Another option is taxi. Here are some choices, though things are constantly changing, so corrections are appreciated:
Homar

Cell phone: 624 129-7038
Home phone: 141-0715
e-mail: homartaxis56@yahoo.com.mx

Ulises

Cell phone: 044 624 165-1263
House phone: 141-0536
From the US: 011 52 624 165-1263
email: ulises_taxis@hotmail.com

Raul

Ensenada de Palmas, Transportadora Turistica
Cell phone: 624 129-7206
Home phone: 01 624 141-0230
e-mail: ensenadadepalmas2007@prodigy.net.mx

Eduardo Verdugo

Cell phone: 044 624 355-4986
Tel./fax: 624 141-0042
e-mail: eastcapetaxi@msn.com

Octavio Aviles

Phone: 624 118-4405 or 624 127-3122
website: www.turispancho.com
email: turispancho@aol.com
Los Barriles is 41 miles (68 km) north of the airport on Transpeninsular Highway 1. After leaving the airport, follow the signs to La Paz instead of going to Cabo San Lucas. I would recommend you make this drive in the daylight only, since many cattle and goats roam the area freely and are very difficult to see at night. A point of interest along the way is a sign denoting the Tropic of Cancer, just past km marker 81.
by automobile
What?! Going to Mexico isn't enough excitement? Now you want me to drive?! Well, for the more adventurous of you who have more time, the drive down the Baja is wonderful. It is about 1000 miles from the US/Mexican border to Los Barriles, and there is something different to see in each section of the Baja. Highlights include:
vineyards and wineries (with wine tasting) south of Tecate
the vegetable farms south of Ensenada
the fantastic cirios (also known as Boojum trees) south of El Rosario (we think these may have inspired Dr. Seuss)
whale watching and cave paintings at San Ignacio
beautiful historic missions at San Ignacio and Loreto
incredible seaside drive from Santa Rosalia to south of Loreto
more agriculture around Ciudad Constitución
the piano museum at El Triunfo
and loads of tasty taco stands along the way!
I would recommend you take some time (at least 4 days) to make the drive your first time. Towns we like to stop at along the way are:
Here is a map of where to find these places. If you have other places you recommend, please let us know so we can add them. Also, just e-mail us if you would like more info on the drive. Also, if you are driving a diesel truck and want reliable info on operating this truck on diesel fuel in Mexico, you can find good information from Ted White here.
by train
Sorry, there is no train service in the Baja. But wouldn't a train ride down the length of the Baja be spectacular? At least we can dream.
by boat
Well, the Baja is a peninsula, surrounded on 3 sides by water. So, sure you can get there by boat if you have one.

Calling to and from Los Barriles
Using the phones in Mexico can be confusing, even to the locals. Here is a table decoding how to use the phones.
An economical way to call home from Mexico is with VOIP (voice over internet protocol) using a computer. There is wireless internet service at the condo, and you can use Skype or Magic Jack. You can use the internet service but will have to bring your own laptop. If you have never used this service before, it is a good idea to get it working on your laptop BEFORE going to Mexico.
You must have a GSM phone (the kind with a SIM chip) to receive cell service around Los Barriles. T-mobile and the newer Verizon phones with GSM work, and I am told that both services have attractive plans for Mexico. AT&T also works well in Los Barriles, and if you have the AT&T Mobile Share Value Plan, you are in luck. For no additional monthly recurring charge, you can get unlimited talk (within Mexico and from Mexico to the U.S.), unlimited texting, and 1GB of data for use when roaming in Mexico. Just go here to sign up. You will have to sign up separately for EACH phone on your plan.
There are several internet cafés in Los Barriles. If you have a wireless laptop, you can get free internet connection while eating at Tio Pablo's or the Roadrunner Cafe in Los Barriles.

There are good margaritas to be had at the restaurants in Los Barriles. However, for the best margarita you will have to either come to our house or make your own using our recipes below. Enjoy!
Margarita on the Rocks
For an authentic Margarita recipe on the rocks, go to How to Make a Real Margarita. The only suggestion I have for improvement would be the addition of 1/6 part of Damiana (see below) to this drink. Damiana is the "secret ingredient" to the margaritas made in Cabo San Lucas. This makes a 1 part tequila, 2/3 part lime juice, 1/3 part Controy, 1/3 part Jarabe syrup, and 1/6 part Damiana drink. Watch out; it is powerful!
Frozen Margarita
Remember the Baldwin sisters on The Waltons? The ones who were always making "the recipe?" My husband, Craig, experimented for 3 years with all sorts of complicated recipes for a frozen margarita. In the end, the tastiest recipe he could invent was also the easiest! So here is his recipe for "the recipe!"
The secret ingredient to the most delicious and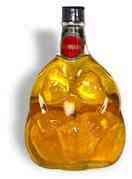 easy-to-make frozen margarita is Damiana Tequila Liqueur, a light herbal-based liqueur from Mexico. It's made with the Damiana herb, a natural aphrodisiac that grows in Baja California, Mexico. It has great mixability and tastes great as a shooter. The bottle is shaped like a pregnant woman and is modeled after the Incan God of Fertility. The Damiana Margarita is very popular in the Los Cabos area of Mexico. Thanks to Pepe, the bartender at the pool at Misiones del Cabo, for teaching us about Damiana.
Craig makes the frozen margarita in a 1&frac12 quart automatic ice cream maker. The ingredients are:
one 12-ounce can of Minute Maid frozen limeade
20 ounces of cold water
8 ounces of reposado tequila
4 ounces of triple sec or Grand Marnier
2 ounces of Damiana
Put all these ingredients in the ice cream maker tub (limeade last), and turn on the ice cream maker. You will have delicious frozen Margaritas in about 20 minutes.
If you are not in a hurry and you do not have an ice cream maker, it works to just mix the ingredients and place them in the freezer for 24 hours. We like to make several batches ahead and keep them in the freezer for guests.

---